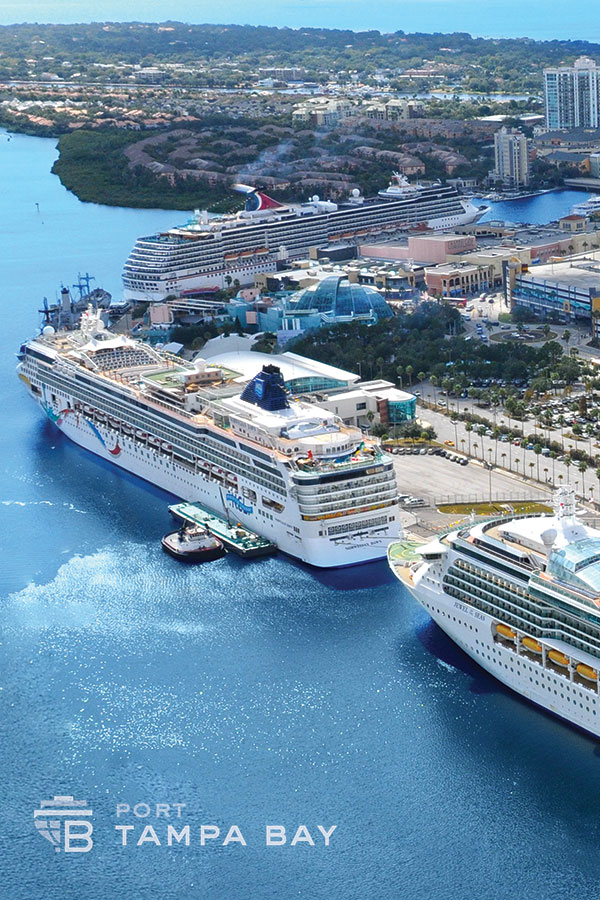 Florida's Largest Port (by size and tonnage): Port Tampa Bay is by far Florida's largest port, handling over 37 million tons of cargo per year. For the first half of this fiscal year, we are experiencing a 10% increase in our total cargo tonnage. We are also Florida's largest port in terms of physical size (and one of the largest in the country) encompassing over 5,000 acres.
Cargo Diversification: Perhaps even more important than our size is the diversity of our portfolio. While most ports around the country only handle one or two types of cargo, Port Tampa Bay is the most diversified port in Florida (and one of the most diversified in the nation) handling ALL major cargo categories, including:
Liquid bulk (incl. petroleum, sulfur, ammonia, orange juice, etc.)
Dry bulk (incl. fertilizer, limestone, granite, cement, coal, etc.)
Break-bulk (we are Florida's largest steel handling port with a cluster of related activities involving manufacturing, fabrication, processing and distribution with a focus on exports)
Containers (imports and exports of food and beverage products, consumer goods such as furniture, lubricants, agricultural products, etc.)
Automobiles (a target growth area for short sea given plant expansion in Mexico and Southeast US)
Cruise (Nearly 1 million passengers/year)
Shipbuilding & Repair (while not core to cargo, one of the largest shipbuilding and repair ports in the southeast is seen as adding to diversity and comprehensive full service status as a seaport)
Exports: In addition to being one of the world's premier fertilizer export ports, Tampa is home to several globally successful exporters, such as Amalie Oil (manufacturer of specialty engine oils exporting to over 100 countries) and Tampa Tank/Florida Structural Steel (manufacturer of bridges, petroleum storage tanks and specialized steel structures with a focus on Latin American exports, as well as domestic markets).
Strategic Location Serving Huge/Growing Local Market & Exports: With a huge local market in excess of 8 million people and welcoming over 60 million tourists/visitors per year, the Tampa Bay/Orlando I-4 Corridor region is a huge local market and the fastest growing region of the state (currently outpacing the growth of South Florida by more than 2 to 1 and projected to do so for several years) and the major driver behind Florida recently overtaking NY as the 3rd largest state. The I-4 corridor is home to the largest concentration of distribution centers in Florida as companies seek to minimize time and their inland delivery cost of serving the entire state. Florida is the leading state for merchandise exports to Latin America and the Caribbean (responsible for 36% of all US exports to the region). Port Tampa Bay is the closest full service US port to the expanded Panama Canal, and is strategically positioned for emerging opportunities in Cuba (formerly Port Tampa Bay's largest trading partner).
Attract Manufacturing through Real Estate. Land is the key asset for attracting manufacturing with export intentions and Port Tampa Bay is Florida's only port with large tracts of property zoned and available for manufacturing and industrial development adjacent to deep water with excellent highway access, rail access and competitive energy costs.