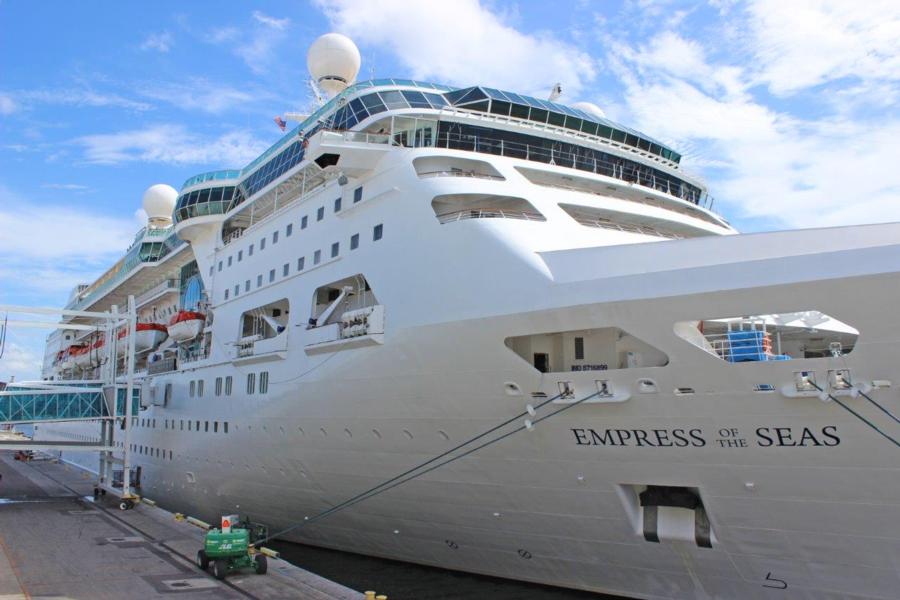 Port Tampa Bay
- Royal Caribbean Cruise Line's 2,070 passenger, 668 crew, Empress of the Seas will set sail this entire summer from PTBTAMPA, Fla.— On the heels of the news that Royal Caribbean International has been granted approval to offer cruises to Cuba, Port Tampa Bay is pleased that Royal Caribbean International will offer cruises to Cuba on a newly announced service from Tampa beginning April 30, 2017. The recently revitalized Empress of the Seas will homeport in Tampa for the 2017 summer season – the cruise line's first ever summer program from Tampa – offering a series of four- and five-night sailings including port calls to destinations in Cuba. Details of the summer itineraries will be released at a later date.
"The Tampa Bay market has always been important to us, and the entire family at Royal Caribbean is excited to give our guests great year-round options to travel on one of our beautiful ships from a world-class port like Port Tampa Bay," Michael Bayley, President & CEO, Royal Caribbean International, said. "We are thrilled to introduce culture-seeking travelers to Cuba from Tampa and we look forward to continuing to grow our business in Tampa for years to come."
"This is truly historic for Port Tampa Bay to have cruises to Cuba and we are thrilled that Royal Caribbean has chosen Port Tampa Bay to offer the largest ship to sail to Cuba from the United States. To have three Royal Caribbean ships in 2017 is exciting for cruise passengers seeking new and innovative experiences," Paul Anderson, port president and CEO, said. "Royal Caribbean guests will have the opportunity to sail out of Port Tampa Bay all year long for the very first time. We are excited to welcome the Empress of the Seas this summer, and we look forward to continuing to be a great partner with Royal Caribbean and a top cruise port for them for years to come," he said.
The Empress of the Seas will join the 2,543-passenger, Brilliance of the Seas, and 2,416-passenger, Rhapsody of the Seas for 2017. The three ships will offer a variety of four-, five- and seven-day itineraries. She will arrive in Tampa on April, 30, 2017 and start the season with a seven-day cruise, and then finish the season with a variety of four- and five-day itineraries.