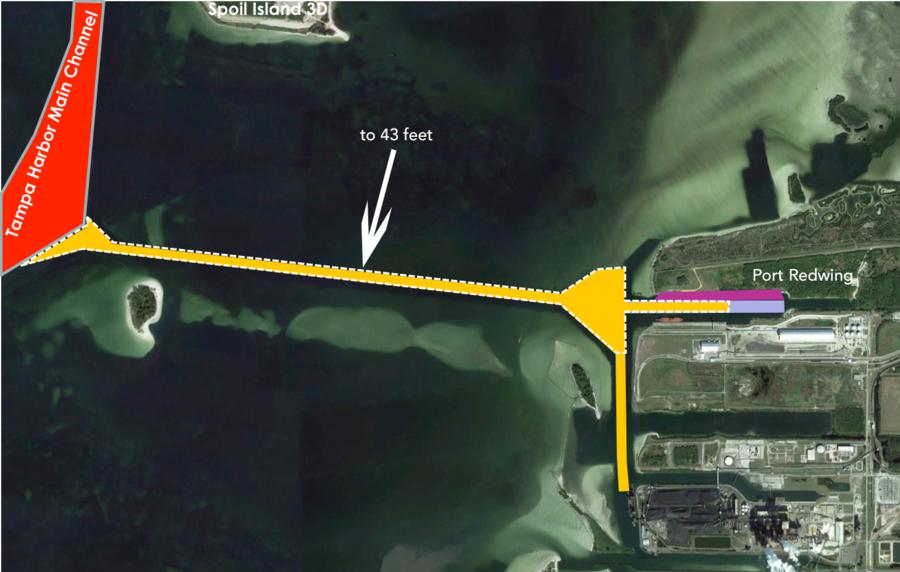 Port Tampa Bay
-
Port Tampa Bay awarded $9 million by the U.S. Army Corps of Engineers for Big Bend Channel Deepening and Widening Project
TAMPA, Fla. — Port Tampa Bay has been notified by the U.S. Army Corps of Engineers that $9 million in Fiscal Year 2017 federal funds will be allocated toward the $55 million widening and deepening of the Port's Big Bend Channel, in southern Hillsborough County. The Big Bend Channel, which connects to the Tampa Harbor main channel, will be deepened from 34 feet to 43 feet and widened from 200 feet to 250 feet.
"The members of our Board and our entire team are excited that the Administration, the U.S. Army Corps of Engineers and the Office of Management and Budget recognize that the Big Bend Channel project will set the standard for innovative partnerships by utilizing a less than 20 percent federal stake in this estimated $55 million strategic project to support navigational improvements," Paul Anderson, president and CEO of Port Tampa Bay, said.
Anderson said Florida Senators Bill Nelson and Marco Rubio and House members Vern Buchanan, Kathy Castor, Dan Webster, Tom Rooney, Dennis Ross, Gus Bilirakis and Charlie Crist all played a critical role in working with their colleagues on the House and Senate Appropriations Committees and officials in the U.S. Army Corps of Engineers and the Office of Management and Budget to make sure that all key decision makers had a clear understanding of the critical nature of this project.
Along with the federal allocation, Port Tampa Bay will be contributing to the project, as well as the State of Florida. The Port acknowledges the longstanding investment support of the Governor's Office in Florida for seaport infrastructure projects. State funds are administered through the Port's strategic partner, the Florida Department of Transportation.
Florida Department of Transportation Interim Secretary Rachel Cone said, "Governor Scott's emphasis on increased port funding is a major economic engine for job creation in Florida. We're pleased that the federal government has recognized the funding partnership between the state and Port Tampa Bay to leverage federal dollars to make these projects happen."
"In addition, the Port has already invested $30 million in infrastructure, with assistance from the Florida Department of Transportation, for the growing Port Redwing maritime complex that will be served by the Big Bend Channel," Anderson said
The funds made available were included in the Fiscal Year 2017 Omnibus Appropriations Bill signed into law earlier this month by President Trump. The funds were distributed for projects throughout the country after careful review and consideration by the U. S. Army Corps of Engineers and the Office of Management and Budget. This project was one of the strategic priorities in the Port's recently released Vision 2030 Master Plan.